What is non-combustible cladding?
Cladding is more important than ever when it comes to buildings and their architecture as it serves both a functional and aesthetic purpose. Functionally it is important to choose cladding that provides protection against the harsh Australian weather elements such as rain, wind, and sunlight, while also enhancing insulation and energy efficiency. Aesthetically, cladding can give a building a distinct appearance, as it comes in various materials and finishes, including wood, metal, brick, stone, or composite materials.
Non-combustible cladding in simple terms means that the cladding does not catch fire and is designed to resist burning and prevent the spread of flames in case of a fire. Instead of being made from flammable substances (such as wood and polyethylene), non-combustible cladding is typically composed of materials like aluminium, concrete, or even certain types of rock. These materials have a high resistance to heat and fire, making them safer choices for constructing buildings and reducing the risk of fires spreading rapidly.
At Network Architectural, our non-combustible cladding options are extensively fire tested for compliance, taking the risk out of your cladding decisions by offering  you complete peace of mind with our  superior range of high-quality materials for any project, with industry leading manufacturer warranties and full project support from our inhouse architectural and technical team.
Non-combustible aluminium cladding – Mitsubishi ALPOLIC™
Exceptional building projects deserve only the very best materials – and in terms of architectural cladding, Mitsubishi ALPOLIC™ NC/A1 is the superior choice.
Meeting all NSW Government testing requirements as a *non-combustible cladding material for use in Project Remediate, Mitsubishi ALPOLIC™ NC/A1 is the safest and most versatile aluminium cladding product on the market.
Delivering unparalleled durability, flatness, and maintenance-free, this product is available in the largest selection of colours and finishes in the non-combustible aluminium cladding market. Of the highest industry standard, it is backed by rigorous testing for both fire safety and performance under Australia's harsh weather conditions and offers endless design possibilities to suit any construction project.
What is non-combustible aluminium composite cladding?
Dangerous composite cladding incorporated a highly flammable polyethylene core between layers of another material. Not only did this represent an inherent fire risk, but also additional hazards in the event of ignition including generating toxic fumes and explosion risk.
Particularly in light of catastrophic incidents (like the Grenfell fire disaster in London in 2017), building standards have been stringently reconsidered and non-combustible cladding must now be used in all new buildings in many countries globally, including Australia. Older buildings must also be remediated (and reclad) to improve safety.
Non-combustible aluminium composite cladding incorporates two thin layers of aluminium with a non-combustible mineral core. Lightweight, strong, and durable, this type of cladding material is easy to install and maintain, and dramatically improves the safety of a building in the event of a fire.
Where fire safety is concerned, Mitsubishi ALPOLIC™ NC/A1 is considered to be the world's safest aluminium façade product. ALPOLIC™ NC/A1 cladding is safer than solid aluminium in a fire, outperforming on all criteria of the AS5113 Large Scale Fire Test. It is also the only composite cladding material to achieve the Euroclass A1 classification – the highest fire-rating standard in the world.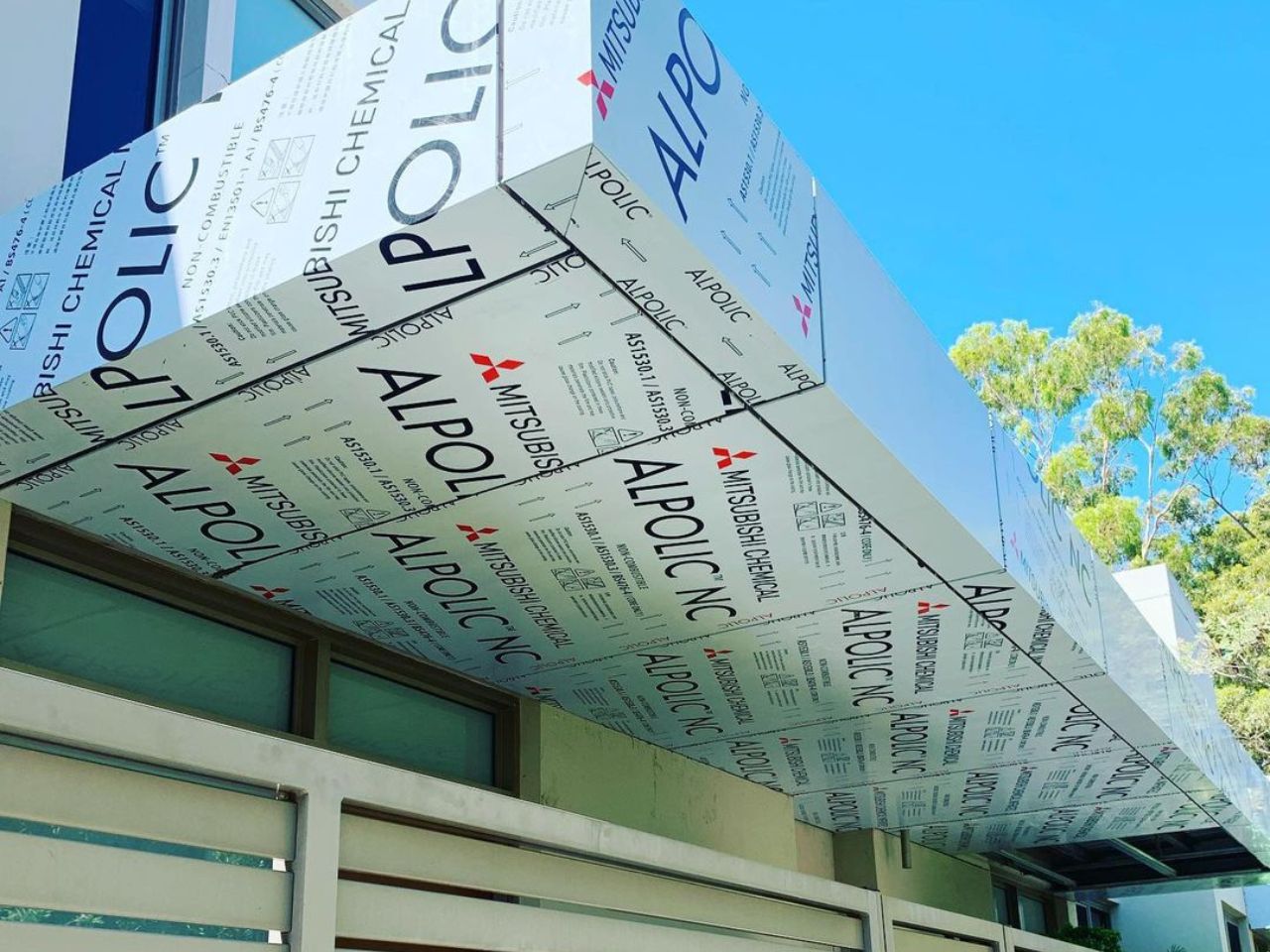 About Mitsubishi ALPOLIC™
Mitsubishi ALPOLIC™ is a global leader in fire-safe aluminium composite cladding. Unrivalled in its commitment to quality, sustainability, and fire safety, ALPOLIC™ aluminium composite cladding is ideal for architectural projects due to its lightness, ability to fabricate into complex forms, and ease of installation.
What is Mitsubishi ALPOLIC™ NC/A1?
Initially manufactured exclusively for the Australian market, Mitsubishi ALPOLIC™ NC/A1 is a mineral core barrier composite panel. It is a high-performance cladding material that meets Australia's strict building code requirements and, since launching globally, it has successfully been tested to Euroclass A1 13501-1, which is the world's most stringent fire-rating test.
The NC mineral core barrier contains no polyethylene, and it resists fire penetrating through the barrier, maximising safety and fire resistance. Furthermore, it does not shed large chunks of molten aluminium in a fire situation.
The benefits of ALPOLIC™ NC/A1 cladding extend beyond maximising the fire safety of your building. With an extensive range of standard colours and finishes, ALPOLIC™ also offers the ability to specify any custom colour. As such, there is no limit to your creativity for a truly bespoke result.
Maintenance-free, Mitsubishi ALPOLIC™ comes standard with Lumiflon FEVE paint technology that protects it against weathering and corrosion and ensures a paint colour that maintains its depth and lustre. On top of this we offer an unrivalled 20-year full replacement warranty backed by the globally trusted Mitsubishi, giving you complete peace of mind for your project.
Why choose ALPOLIC™  DtS non-combustible aluminium cladding?
Exceptional Durability & Rigidity
Superior Impact & Hail Resistance
Exceptional Flatness
High Resistance to Weathering, Corrosion, UV Radiation, & Colour Fading
Unique Colour Consistency
Exceeds Industry Safety & Compliance Requirements

Full Compliance with BCA2019 and BCA2022.
Codemark Certified and Tested to AS5113 Large Scale Fire Test.
Recognised by the Insurance Council of Australia as having the highest possible safety rating.

20-Year Unconditional Warranty
Full manufacturer's warranty includes materials, labour, and rectification costs. Cleaning is NOT required to maintain the warranty.
Sustainability

Produces 300% fewer CO2 emissions during the manufacturing process than 3mm thick solid aluminium.
More than 500% lower heat transfer than solid aluminium.
Manufacturing processes committed to recycling and renewables.
Holds an Environmental Product Declaration (EPD) by the Good Environmental Choice Australia (GECA) Certification Program.
Mitsubishi ALPOLIC™ architectural cladding offers far superior performance compared with other cladding products on the market (including solid aluminium cladding). With proven durability for over 20 years in Australia's unique conditions, there is no better fire-safe cladding product on the market.
TONALITY® terracotta and ceramic non-combustible façade
At Network Architecutral we know not all projects are the same and most buildings and homes require their own unique look and design. So, if you are wanting to create a more natural look and feel on your next project, look no further than TONALITY® a maintenance free, non-combustible, terracotta and ceramic façade option.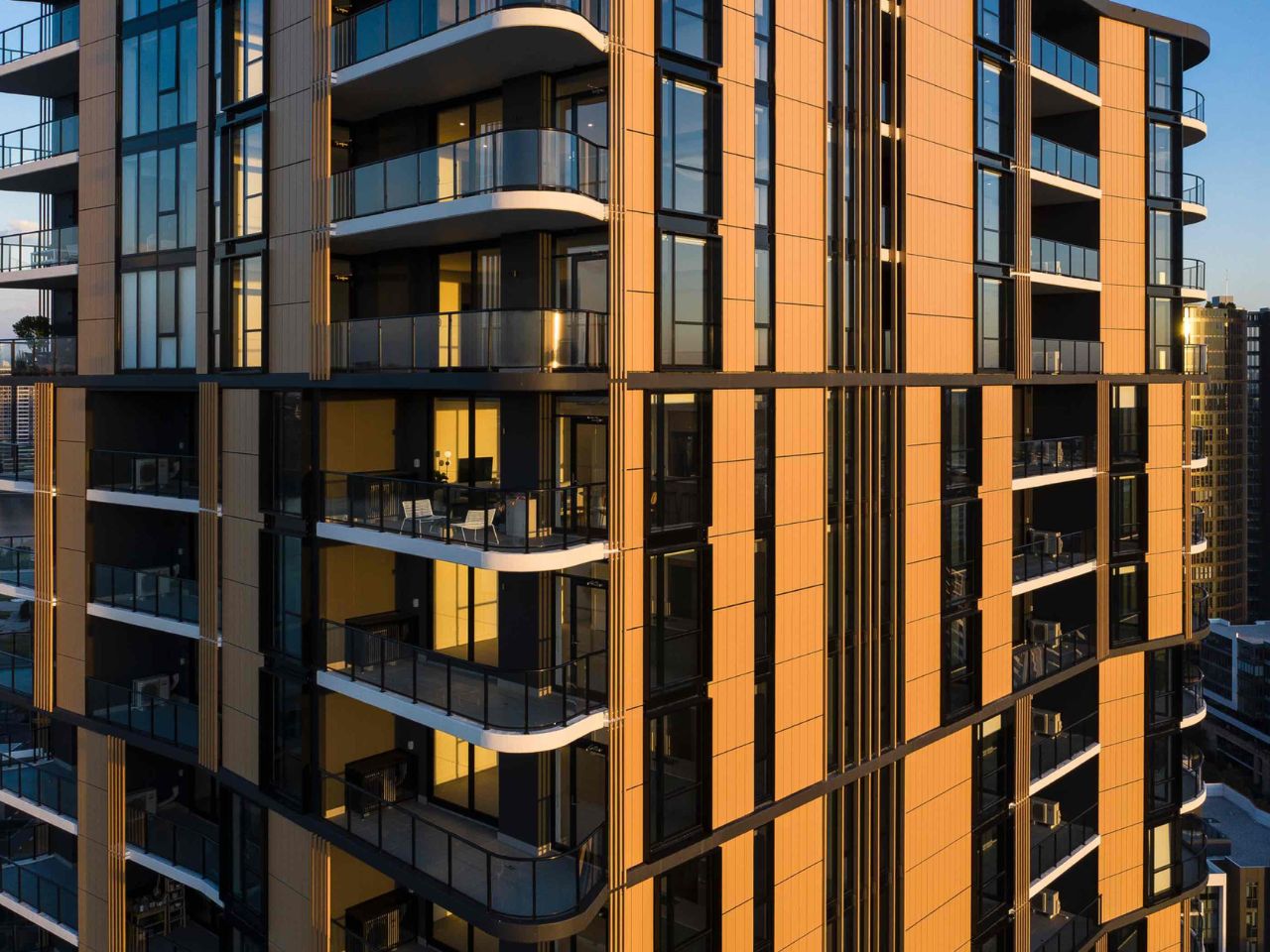 Manufactured with German precision, TONALITY® offers great design flexibility with over 50 standard colours (along the ability to customise colour), a range of surface finishes, and a wide choice of layout and installation options. One of the biggest benefits is its unique rapid installation framing system, which makes it easier and faster to install than other cladding options, ultimately reducing the labour and installation costs of your project. It really is a maintenance free non-combustible façade option as it has a lifelong colour fastness, is UV and frost resistant and comes with a 30 year warranty.
CEMINTEL non-combustible fibre cement facade
Cemintel takes a fresh and intuitive perspective on cement-based cladding materials, which allows for a wide variety of non-combustible options such as fibre cement and cement-bonded fibrous wood particle panels.
Cemintel offer a wide range of architectural wall cladding  options, choose from their diverse range of products such as:
Cemintel Territory: A natural cladding range that derives from the values of simplicity, nature and quality. Territory prefinished cladding simulates materials like stone, timber, concrete, metal and smooth render, in a sophisticated way that enhances building façades and interior spaces.
Cemintel Surround: Allows you to mix and match colours with confidence, Surround has a core palette of 5 neutral colours and discrete patterns with a secondary palette of 16 colours designed to highlight and complement the core colour offering.
Cemintel Barestone: Provides a natural, raw concrete appearance that blends seamlessly into its environment and easily adapts to modern, contemporary designs. Ash, Lunar and Graphite add colour depth, while maintaining the raw, natural appeal of the much loved Original.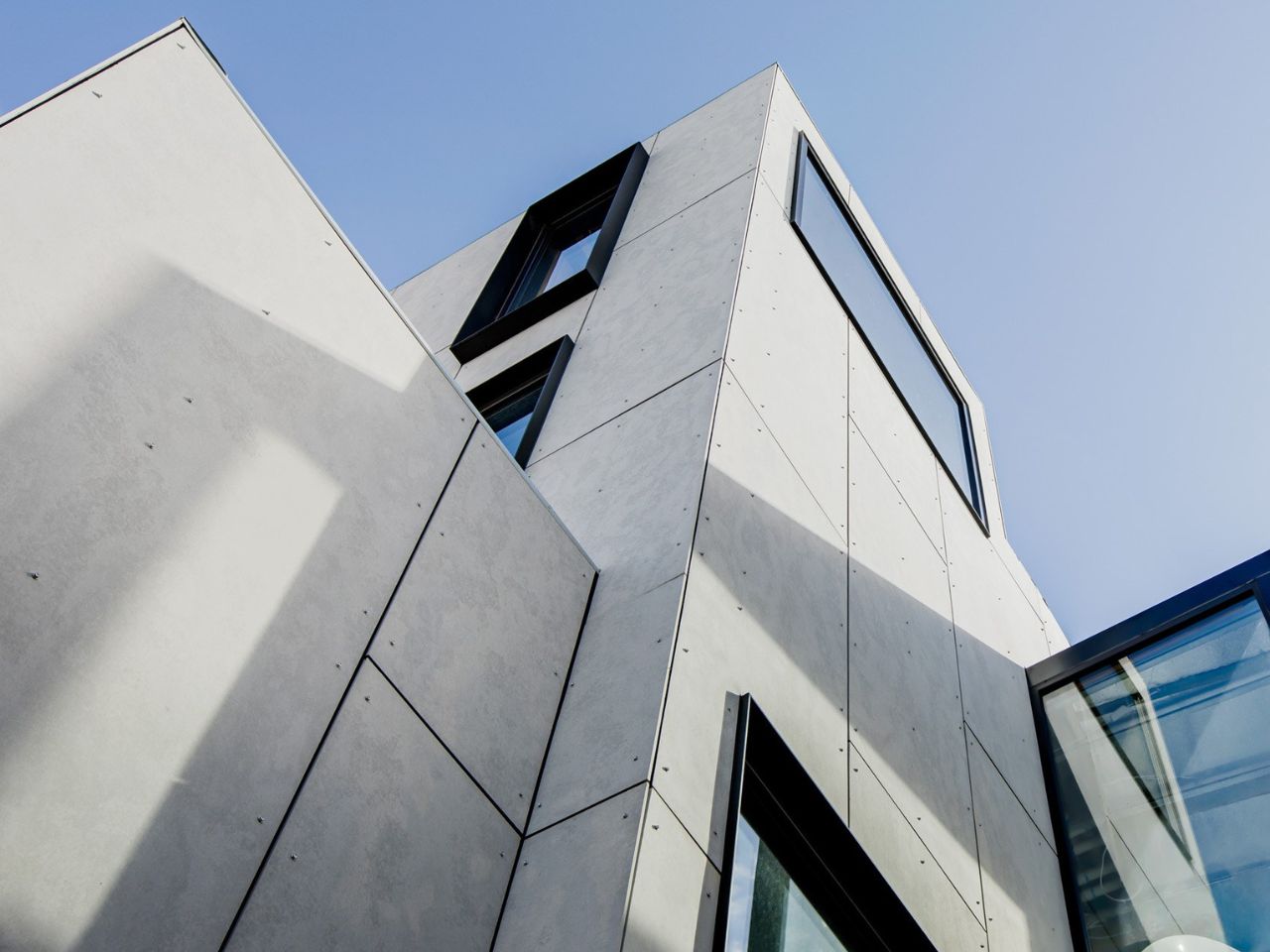 Fibre cement can also be used where non-combustible materials are required under the NCC 2022 Volume One, Clause C2D10 [NCC 2019: C1.9]. Along with this it has the flexibility to bring any building design to life.
Can be manufactured into numerous panel sizes and thicknesses.
Ability to cut into various shapes and patterns.
Compressible for high strength applications.
Suitable for use in acoustic systems.
Can be used as a superior wet area lining product.
It can be painted or tiled.
Cemintel's range of architectural cladding options allows architects, designers, and builders to create beautifully designed homes and buildings with fire safe materials.
Full service & support
Enjoy the benefits of partnering with Network Architectural when you work with ALPOLIC™, TONALITY® or Cemintel non-combustible cladding. We are with you from specification to the completion of your project, offering support every step of the way.
For outstanding aesthetics and peace of mind, on your next project contact us today.
*Deemed to Satisfy