OWA Mineral Fibre Ceilings
---
Design and function intersect for sophisticated modern ceiling solutions: OWA mineral fibre ceilings
The right ceiling solutions can make a remarkable difference to the ambience and function of a space, from lighting to sound and air quality, as well as specific decor and aesthetic appeal.
Bring a modern and fresh feel to your projects with industry-leading products when you select OWA mineral fibre ceiling tiles at Network Architectural.
With a versatile array of options for everything from enhancing hygiene with an antimicrobial ceiling in hospitals and clean rooms to improving fire safety in public spaces, or controlling noise and sound with superior acoustic ceilings, OWA ceiling tiles have a diverse and environmentally friendly range to suit your needs.
Network Architectural is a major distributor of OWA Ceiling products in NSW and the ACT.
What is an OWA mineral fibre ceiling?
Originally founded in 1948, and established as OWA in 1964, this German company is a global market leader in premium-quality, innovative, high-performance sustainable ceiling systems. OWA's sophisticated and versatile solutions suit almost all conceivable industries and sectors, including commercial, retail, education, healthcare, logistics, scientific laboratories, hospitality, sports and leisure, government agencies, and corporate entities.
Among the diverse ceiling solutions available at Network Architectural from OWA is its range of mineral fibre tiles.
OWA mineral fibre ceiling tiles – a unique product
OWA ceiling tiles are crafted from unique, specially manufactured mineral wool. Produced directly by OWA, this bio-soluble product is amongst the world's most carefully controlled and thoroughly researched building materials. It has been awarded the renowned German RAL Quality Mark and also complies with all international regulations for quality construction materials.
OWA mineral fibre ceiling tiles have a  Group 1 fire rating.
Manufactured in-house at the OWA plant, the mineral wool is made from a combination of high-quality natural raw and recycled materials. Approximately 80% of these raw materials used are sourced locally to OWA's manufacturing facility. By producing this product in-house, OWA maintains full control of the raw material supply chain and the resulting ceiling tiles are unique and superior in terms of durability, workability, acoustic performance, and behaviour in a fire.
OWA mineral fibre ceiling tiles are made from a specialised combination of:
Bio-soluble mineral wool
Organic binding agent
Solvent-free emulsions
Natural clay and perlite fillers
Cellulose
OWA ceiling tiles are configured to suit different construction systems and they are available in several finishes.  Choose between a wide range of OWA mineral fibre tiles in various sizes and styles, including but not limited to the OWA Sinfonia Range, OWA Constellation tiles, OWA Finetta ceiling tiles, and various others.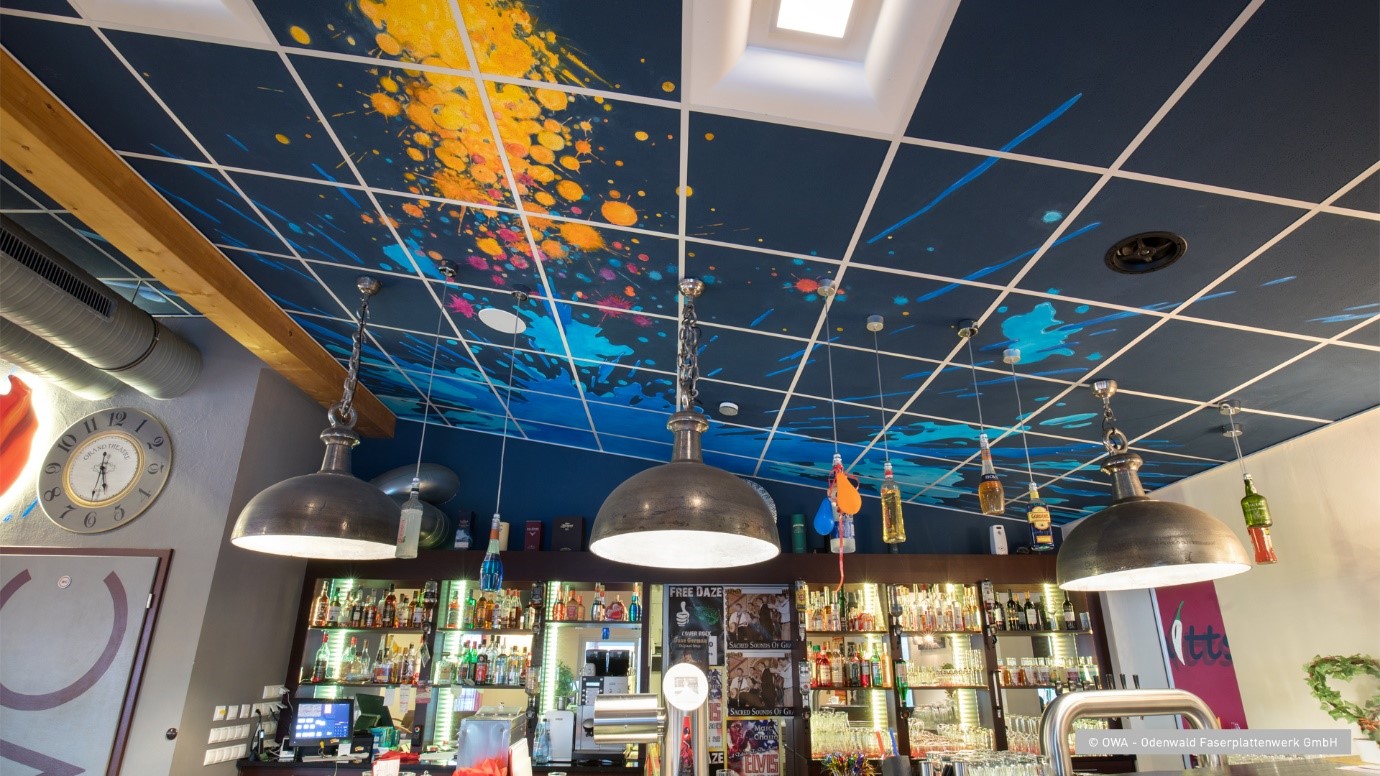 Why choose OWA ceiling tiles?
OWA Mineral Fibre Ceiling Tiles are a sophisticated product and superior in terms of:
Acoustic performance
Increased fire protection
Moisture resistance (minimising mould and mildew growth)
Hygiene
Indoor air quality
Stylish Appearance
Enhanced lighting comfort
Other features include:
10-Year Manufacturer's Warranty
Ceiling Solutions Market Leader for 50+ Years
Extensive Range – mineral fibre ceiling tiles to suit any application
Sustainable – Global Green Tag certified and achieve a GreenRate level A, which contributes to a buildings Green Star rating
Vertically Integrated Products
Network Architectural is committed to your complete satisfaction and we proudly offer complete end-to-end support on any project.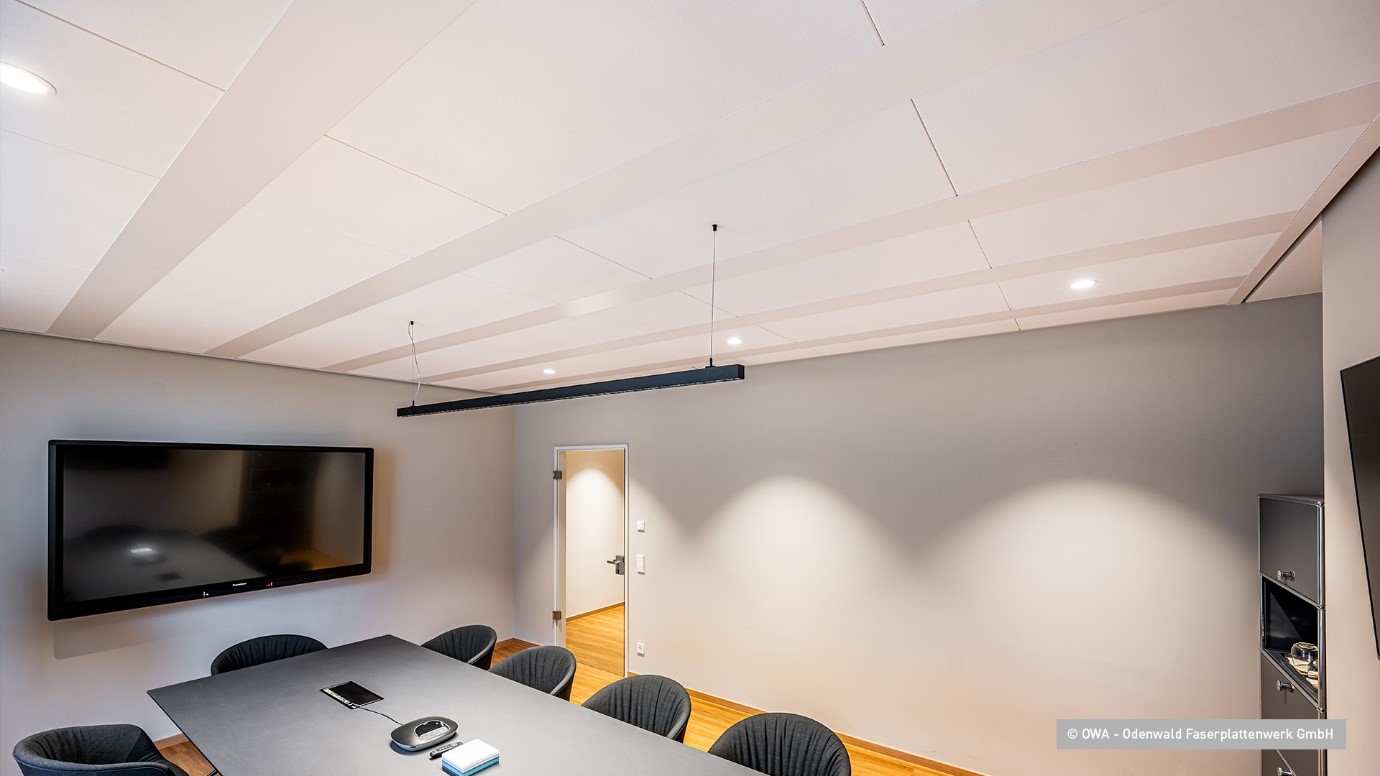 A word about sustainability…
We are all becoming more environmentally conscious, and modern businesses and other entities benefit from demonstrating a genuine commitment to sustainability.
Network Architectural shares this commitment and we are very proud to offer OWA mineral fibre ceiling solutions as part of this initiative.
OWA strives to use raw materials efficiently and responsibly, and the company is committed to its ongoing improvement in pursuing and meeting defined environmental goals. These include maintaining legal compliance and monitoring results.
Raw materials are primarily sourced locally and transported over short distances only.
All OWA mineral fibre ceiling tiles produced since 1997 are 100% recyclable
OWA ceiling products are produced to comply with ISO 14001 2015 for Environmental Management.
Naturally-occurring pigments and solvent-free dispersion paints are used in the manufacturing process.
Up to 54% recycled components. Recycling of old OWA tiles is performed in our plant.
80% of the water used in the OWA manufacturing plant is vapourised back into the air and all but 8% of the residual production water is recirculated.
OWA Mineral Fibre Ceiling Tiles are a superior product which is why we choose to be one of their major distributors. At Network Architectural we're passionate about what we do and we're here to find the best solution for your specific designs, specifications and project requirement. We have a highly experienced and skilled team who work closely with you at all stages of the project lifecycle – from conception to specification through to project completion.
As a distributor of OWA let us help you create high quality, safe and environmentally friendly spaces that stand out from the crowd, contact us today.