No matter what your project is or its scope, durlum metal ceilings provide architects and designers with the creative freedom to design a truly bespoke ceiling that meets both functional needs and aesthetic vision. 
With a huge range of sizes, shapes, finishes, effects, integrated lighting solutions, and an extensive range of colours to choose from, it's easy to get creative with durlum metal ceilings. Whether you want your ceiling curved, faceted, or flat; in timber-look, coloured polyester powder coat, or decorative stainless steel; our in-house design service & technical team can turn around design and colour samples quickly to meet the needs of your projects. our durlum metal ceilings can be adapted to meet even more specific bespoke ceiling needs and can be a real feature while hiding services such as lighting and electrical.
From perforated modular metal ceiling panels to mesh ceilings, baffle ceilings, open-cell ceilings, acoustic ceilings, and suspended ceilings, we will bring your vision to life and exceed your expectations – and all durlum metal ceilings come with a 10-year warranty.
Ceiling Designs & Custom Features
Choose from a stunning range of finishes and an unlimited range of colours. All customisable to help you achieve your design vision.
| | |
| --- | --- |
| durlum bespoke perforated metal ceiling in hexagonal shapes | durlum bespoke timber look baffle ceiling resembling tree trunks |
| durlum bespoke LIVA paddle metal ceiling in various custom colours | durlum bespoke expanded metal mesh ceiling in custom green |
| durlum POLYLAM baffle metal ceiling in custom colours with integrated lighting | durlum BUBBLE metal ceiling |
| durlum bespoke decorative metal ceiling in rippled mirror finish | durlum bespoke LOOP metal ceiling with integrated lighting |
| durlum bespoke metal tube ceiling and bronze bulkheads | durlum bespoke perforated metal ceiling in custom vibrant green finish |
| Multidirectional durlum PYTHA open-cell metal ceiling with patterns of equilateral triangles | durlum bespoke RAFT acoustic metal ceiling with integrated lighting |
For further inspiration, download our project lookbook here.
durlum Project Design Lifecycle
At Network Architectural we also offer a complete in-house service from concept to completion, with quick turnaround on drawings and samples. Our detailed durlum Project Design Lifecycle process will transform your vision into reality.
Conceptual design – Our process begins with reviewing the Architect's conceptual design
Hand sketches by durlum – Our durlum design team then create a more detailed hand sketch to bring this concept to life, giving you a glimpse of what your project could look like.
Samples and colours – To further refine the details, we provide hand samples and a wide array of colours, allowing you to select the perfect combination and correctly colour-match your design.
CAD drawings – Once the sketches are approved our experts create precise CAD drawings, ensuring every element of the bespoke ceiling design fits seamlessly together.
Full-scale prototypes – We then take your design to the next level by constructing a full-scale prototype, allowing you to experience the end result.
Shop drawings by durlum – Finally, our experienced team at durlum produces meticulous shop drawings, guiding the construction process and bringing your project to life, making it easy for final sign-off before going into production.
With our comprehensive bespoke design process, we ensure your vision is realised with the utmost attention to detail and craftsmanship.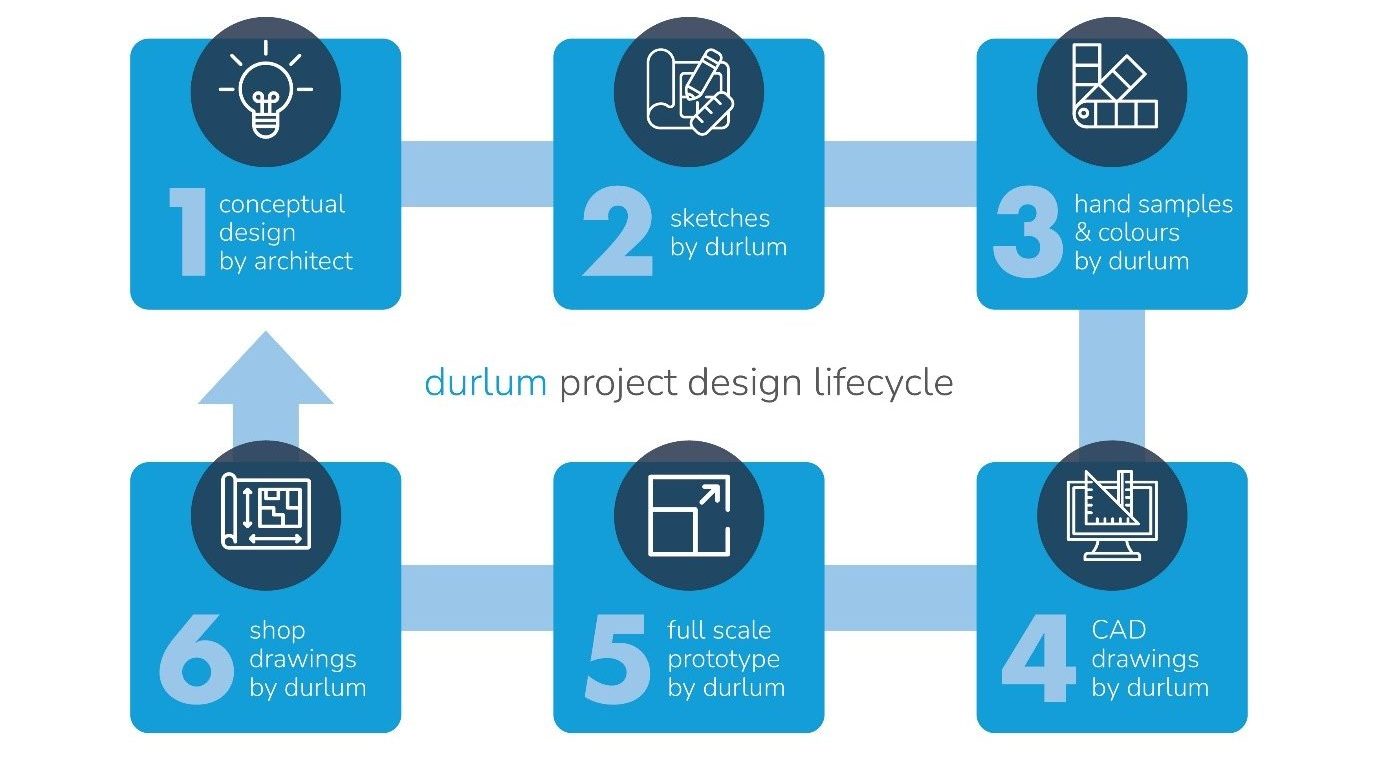 durlum Metal Ceilings
Metal ceilings from durlum are characterised by precise standards of finish delivering a perfect synthesis between function and design. Combining metal ceilings and lighting solutions, durlums unique design lifecycle process, extensive global experience and iconic projects enables them to thrive in all types of design challenges and bespoke projects.
Metal Ceilings also offer several architectural advantages:
Streamlined design aesthetics – modern and clean, these ceilings are available in linear, modular, curved or sculpted layouts, in a variety of profiles, colours, and finishes. Select from standard modular to highly customised and bespoke ceilings.
Durability – correct to specifications for their application, these systems deliver a robust ceiling that can withstand harsh environmental conditions and even rough handling and impacts.
Humidity-resistance – metal ceilings can withstand fluctuations in temperature and humidity without any risk of sagging, warping, or becoming otherwise compromised. They are also resistant to mould and mildew growth.
Easy to clean and access – metal ceiling surfaces and panels are easy to clean, and these ceiling systems enable accessibility for the ceiling above them for maintenance and service requirements.
Fire resistance – metal ceiling solutions are fire-resistant and compliant with Australian Standards.
Integration – install (and hide) electricals, cabling, lighting, heating and cooling systems, ventilation, sprinklers, smoke detectors, and other requirements within metal and bespoke ceiling systems.
Bespoke Ceilings at Network Architectural
Why Choose Us
Network Architectural is your trusted partner for innovative ceiling and facade solutions. Passionate about what we do, we listen, learn, and always strive to improve and innovate. Helping you find the best solution for your specific designs, specifications and project requirements is our priority. We pride ourselves on having a highly experienced and skilled team who work closely with you at all stages of the project lifecycle – from conception to specification through to project completion. As the exclusive distributor of some of the industry's leading ceiling and façade products, let us help you create high-quality, safe and environmentally friendly buildings that stand out from the crowd.
From the simplest ceiling solutions with off-the-shelf rectangular or square panels to unique bespoke designs, we do it all! Contact us today to get started with your bespoke metal ceiling project.